Welcome to WFG's Default Title Services
WFG National Title Insurance Company's Default Title Services division provides servicers, attorneys and trustees in the Western United States with a wide range of customized default title products and services, including Trustee Sale Guarantees (TSGs) in California, Arizona, Nevada, Washington, Oregon and Colorado.

We offer both insured judicial and non-judicial title guarantees, as well as two-owner non-insured FNMA reports and pre-foreclosure uninsured title reports nationally with customized billing on all of our monthly statements.

Our default title division works with the industry's largest foreclosure platforms to ensure greater accuracy, reduce redundancy, and shorten timeframes. National e-recording services further streamline processes and accelerate the file review process. A personalized, consultative approach allows our team members to share industry best practices that meet each client's individual goals, so they can be successful in their unique market.

The relationships we have built have earned the trust and the loyalty of our clients.
Non Judicial Foreclosure and Judicial Litigation Guarantees
Trustee Sale Guarantees and Litigation Guarantees; Integration with the largest foreclosure platforms
Specialty information reports, document retrieval and national E-recording services
National two-owner, non-insured FNMA pre foreclosure reports; forbearance, property and foreclosure information reports, and e-recording services
Consultative approach, personalized service
Trustee Sale Guarantees and Litigation Guarantees; Integration with the largest foreclosure platforms
Click to download a flyer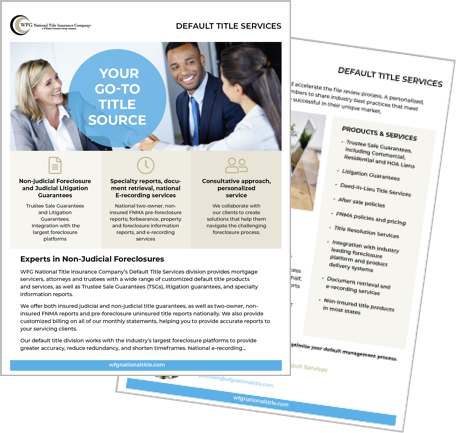 Dean Kirchen
Senior Vice President, Default Services
dkirchen@wfgtitle.comDirect: 818-638-7505
Cell: 805-208-4479
700 North Brand Blvd. Suite 1100 Glendale, CA 91203
About me
A 25-year veteran of the default services industry, Dean Kirchen is SVP of WFG Default Title Services. He is a graduate of the University of Southern California's Marshall School of Business and was invited to join a leading national underwriter upon graduation. His interest and expertise in civil code statutes, foreclosure case law, and the impact of title issues related to a lender's ability to complete a foreclosure sale and subsequent transfer to a bona fide purchaser have made him a recognized industry leader and earned him the respect of his peers. One of WFG National Title Insurance Company's early hires, Kirchen's reputation and keen market insights have been instrumental to WFG Default Title Services' rapid growth.
Our coverage
Default services is located in Glendale, CA and covers Arizona, California, Colorado, Nevada, Oregon, and Washington states.,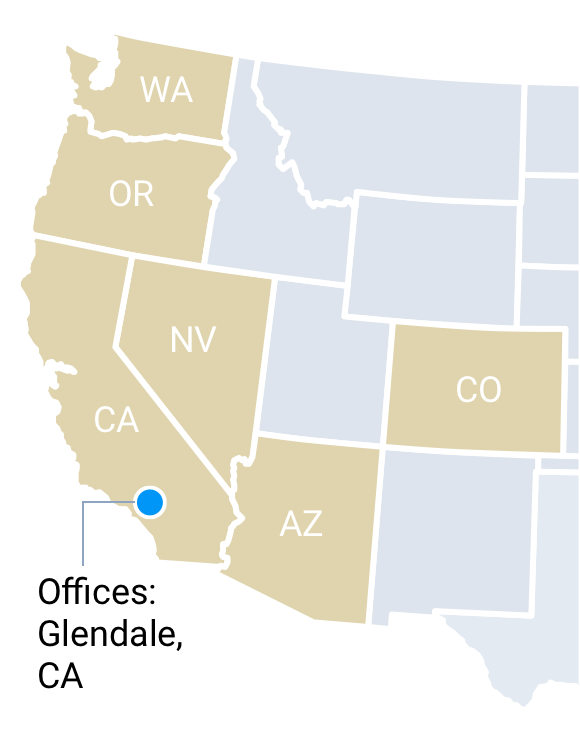 Products and Services
Trustee Sale Guarantees, including Commercial, Residential and HOA Liens
Litigation Guarantees
Deed-In-Lieu Title Services
After sale policies
FNMA policies and pricing
Title Resolution Services
Integration with industry leading foreclosure platform and product delivery systems
Document retrieval and e-recording services
Non-insured title products in most states
Default Information Portal
24/7 Transparency, Compliance, and Convenience
For added transparency and convenience, our Default Information Portal provides 24/7 access to any document in your production file. Whether it's an invoice, a TSG, or a copy of a recorded document, everything is included in this secure web-based platform, providing our customers with real-time access to documentation on all work completed on their behalf, whether to view or print. The secure portal also supports real-time client auditing.
The relationships our team has developed over the last 25 years have earned us the trust and loyalty of our clients.