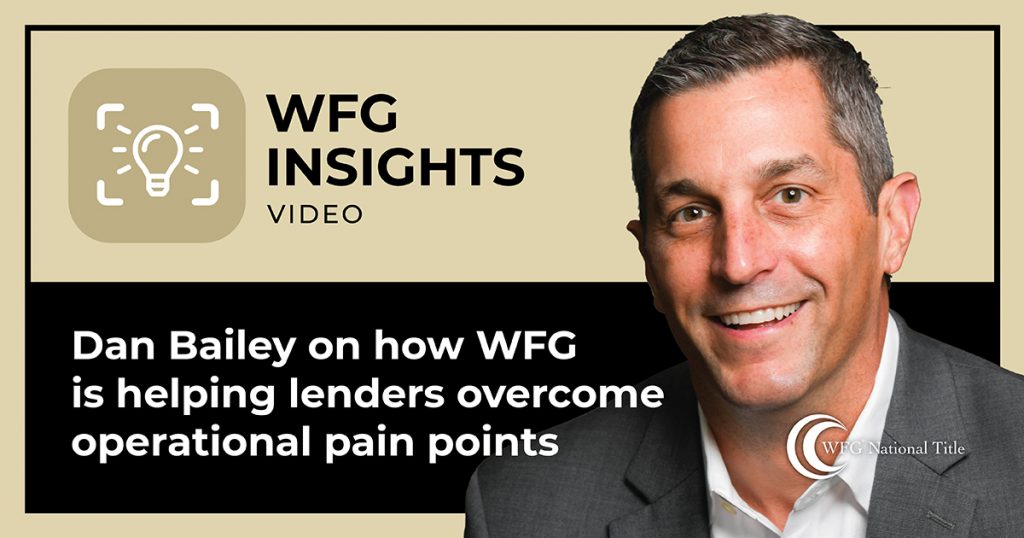 In the latest WFG Insights,WFG Lender Services' Senior Vice President Dan Bailey explains how WFG's commitment to continuous improvement led to creating an industry-wide Executive Roundtable (ERT) in 2020. That, combined with dedicated use of customer satisfaction surveys, is helping WFG find and remove operational pain points for lenders and their customers.
"The most important thing for us to assess on a continual basis is the voice of our customer," Bailey told Gaffney-Austin Co-founder and former HousingWire editor Jacob Gaffney. According to Bailey, the idea of the ERT started about four years ago, when WFG began seriously measuring its service level performance and introduced Net Promoter Scores (NPS) as a way of assessing how its customers and their borrowers felt about WFG.
ERT meetings allowed leaders across the industry to identify four primary concerns that WFG Lender Services began working to resolve. A primary concern was training.
The feedback from the ERT meetings helped WFG develop programs to help its lenders better understand what WFG does as a title insurance company, an appraisal management company, default services provider, and more. "[We can also] collaborate in trade organizations, industry organizations, and offer services to help train new employees in the industry," Bailey said.
Gaffney was interested in how WFG goes about building a better process.
Bailey explained that WFG participates with customers in a "process-mapping program to identify transactional issues and solutions to resolve them," which may lead to technological solutions, or a slight process change that can increase pull-through and loan closing rates.
When asked about NPS, Bailey said it has become "vital" to WFG's goal of continuous improvement. The survey asks a simple question: Would the customer recommend WFG? If so, the customer rates the recommendation on a scale of 1 to 10.
"[The NPS feedback] was eye-opening for us . . . it gave us such valuable feedback from folks about communication issues . . . and additional insight into our process and the way that we're perceived by our customers and their borrowers. It really led us to close the loop on some issues that were causing challenges," Bailey said.
All scores and data are shared with customers without filtering. "We'll always be transparent; we always want to provide all the information," Bailey insisted. "One of the things that I've been absolutely adamant about is that any report that we develop is the true data."
WFG's collaboration with its colleagues through the ERT and communication with its customers through NPS feedback is helping WFG develop products and services to deliver to the industry. "I couldn't imagine running an operation without it," Bailey said.