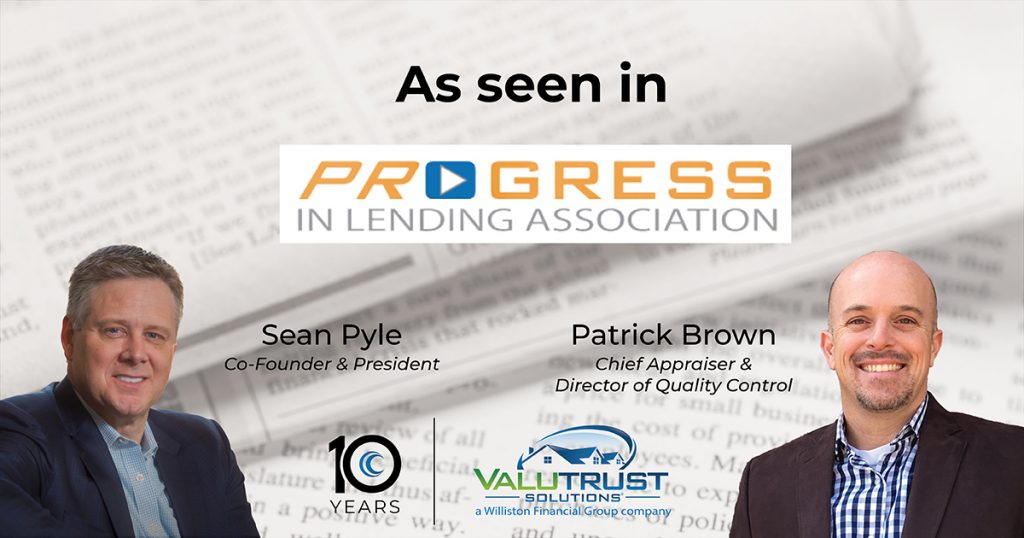 In this June 18 article, co-written for Progress in Lending by Sean Pyle and Patrick Brown, the authors explain how the business of property appraisal had to make radical adjustments in order to survive the economic upheaval of COVID-19. Importantly, those changes made in the heat of such an uncompromising threat, are certain to remain in place after the pandemic subsides, and have the effect of moving the industry forward faster than it would have otherwise progressed.
Pyle is Co-founder and President of Valutrust Solutions, a member of the Williston Financial Group family of companies, and Brown is its Chief Appraiser and Director of Quality Control.
While the COVID-19 pandemic has nearly destroyed our national economy and greatly impacted the mortgage market," they write, "our collective response to it will leave our industry with some surprising benefits. Whether it is creating more comprehensive emergency preparation plans, developing work-from-home protocols or improving security to allow greater reliance on cost-saving digital conferencing, the crisis has forced us to make adjustments that both secure and streamline our operations. This is certainly true in the area of valuation and appraisal services."
Brown and Pyle admit that the lessons from the coronavirus will be challenging for the mortgage industry, but they will be invaluable.
"Flexibility and communication are primary," they stress. "Technology will continue to provide tools that provide workarounds and keep operation schedules virtually intact. Generally speaking, if you prepare and brace for it as best you can, you can avoid harmful decisions made in reaction to short-term swings in the industry."