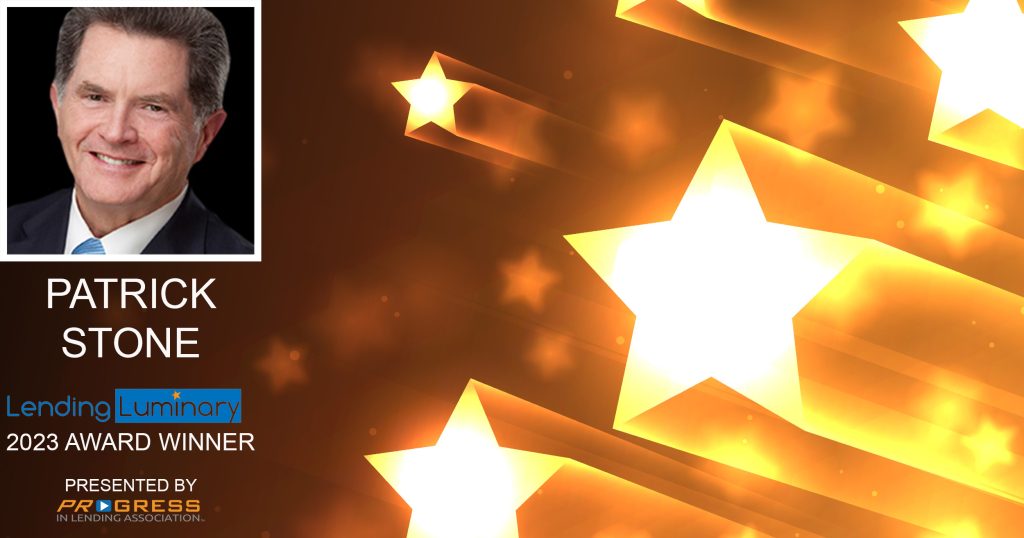 PATRICK F. STONE
Chairman & Founder
Williston Financial Group
We are both thrilled and honored to announce that our Chairman and Founder Patrick Stone has been recognized as a 2023 Lending Luminary by Progress in Lending. A luminary, by definition, is an individual who inspires and influences others. In this industry filled with uncertainties, it's luminaries like Patrick who expertly guide us through the ever-fluctuating market conditions. Not only have his visionary leadership and unwavering commitment to excellence propelled WFG forward, they've also positively impacted our entire industry.
Chairman and Founder Patrick Stone launched WFG in 2010 with the goal of creating a single technology platform that brings together all real estate participants for maximum collaboration and efficiency. This emphasis on technology has allowed WFG to grow into a family of companies whose solutions span much of the real estate and mortgage spectrum. During the last year, Stone and team launched a new release of WFG's flagship platform, MyHome, and the DecisionPoint Rapid Legal & Vesting Solution. They also introduced a new title agent educational program, "The ABCs for Your Title Agency;" consistently achieved "World Class" NPS ratings, and more than quintupled attendance for Stone's popular Quarterly Economic Outlook webinar series from Q3 2022 to Q3 2023.
The DecisionPoint Rapid Legal and Vesting Service provides home equity lenders with fully automated legal and vesting reports – including a recordable legal description from a property's last full-value transfer and verified vesting information from the most recent deed. Delivered as quickly as 30 minutes from request through the company's proprietary Valutrust platform, the offering is available to lenders of all sizes and features expedited account setup and standardized data delivery, enabling lenders to sign up and obtain needed property-related information quickly and efficiently. Last fall WFG introduced a completely revamped version of its award-winning MyHome platform, with a fresh, new user interface and greatly expanded functionality. MyHome brings purchase and refinance transactions together within a single, integrated platform that seamlessly links all participants, creating a superior, highly personalized experience. It also facilitates engagement from the very beginning of a transaction through closing and post-closing, and supports the rapid introduction of new technologies, such as RON and other e-closing solutions, to further enrich the user experience.
As of early 2023, 600,000-plus transaction participants have used the WFG MyHome platform and more than 288,000 purchase and refinance transactions have been completed. While MyHome benefits all participants by streamlining processes, eliminating unnecessary touchpoints and enhancing communication and transactional transparency, consumers are the ultimate beneficiaries. MyHome use also significantly increases repeat and referral business for both WFG and its clients. With the market downturn in 2022 and 2023, the need for WFG's agents to optimize operations and streamline expenses for sustained profitability came to the forefront. Rising to meet this challenge, WFG expanded its Business Operations Block in the spring of 2023 under Stone's direction with the introduction of its "The ABCs for Your Title Agency" program. The program is a rich source of industry and operational knowledge, from live seminars, to on-demand video sessions accessible through WFG's Agent online resource library, supplementary materials and continuing education opportunities, all of which are exclusively crafted for and available to the company's title agent network.
Stone has continued to establish a client-first culture at WFG that's best illustrated by the company's "World Class" August 2023 Net Promoter score of 86. While many providers claim to have great service, WFG is the only title insurance provider that regularly tracks and publishes this objective performance.
For the complete list of 2023 Lending Luminary Award recipients, read the full article.