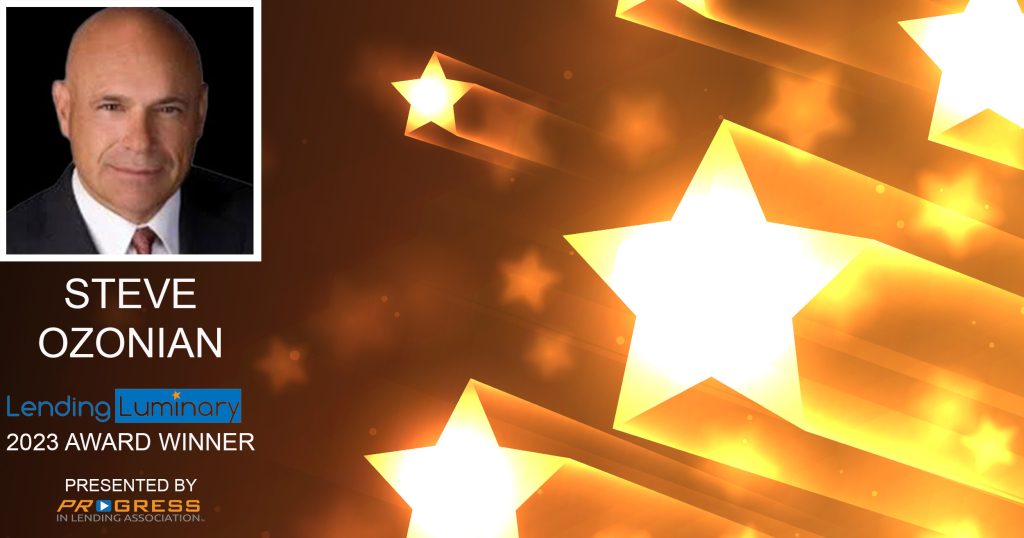 STEVE OZONIAN
President & CEO
Williston Financial Group
We are both thrilled and honored to announce that Williston Financial Group CEO and President Steve Ozonian has been recognized as a 2023 Lending Luminary by Progress in Lending. A luminary, by definition, is an individual who inspires and influences others. In an industry brimming with uncertainties, luminaries like Steve help us navigate through the ever-evolving market landscapes. His strategic command and steadfast dedication to excellence have driven Williston Financial Group to new heights and helped move our industry forward.
As President and CEO of Williston Financial Group and its family of companies, Steve Ozonian has created an organization that is consistently on the cutting edge of technology and ranks "World Class" for service, with an average company-wide NPS score of 87. Ozonian continues to draw on his background and strategic view of the housing industry to revolutionize real estate transactions and mortgage lending and position WFG for growth and continuing success. He engineered WFG's current tech transformation, developing the roadmap to redefine homebuyer engagement, and overseeing the shift to remote online settlement processes through the formation of strategic relationships with multiple leading eClosing providers.
Ozonian oversees operations for WFG's fintech solutions subsidiary, MyHome. Formerly known as WEST, Ozonian directed the company's rebranding in fall of 2022 to better align with and increase awareness of the company's flagship, award-winning technology offering, MyHome. A 2023 HousingWire Tech100 award recipient, WFG's MyHome brings real estate transaction participants together within a single, easy-to-use collaboration space that enhances communication, transparency, and the consumer experience by eliminating duplicate touchpoints, providing real-time status updates, enabling pro-active communication, and facilitating data and document collection, storage sharing, and signing services.
Under Ozonian's leadership, the company released a completely revamped version of the award-winning collaboration platform in late 2022, with a new user interface and greatly expanded functionality. The 2022 MyHome release was the culmination of seven years of real-world user experience and input, resulting in the next generation of consumer collaboration technology. It brings purchase and refinance transactions together within a single, integrated platform that seamlessly links all participants, creating a superior, highly personalized experience. It also facilitates engagement from the very beginning of a transaction through closing and post-closing, and supports the rapid introduction of new technologies, such as remote online notarization (RON) and other e-closing solutions, to further enrich the user experience. While the platform benefits all transaction participants by streamlining processes, eliminating unnecessary touchpoints, and enhancing communication and transactional transparency, consumers are the ultimate beneficiaries.
Their appreciation for the enhanced 2022 MyHome platform is best evidenced by WFG's consistently stellar Net Promoter Score rankings for customer satisfaction, which place WFG in the "World Class" range. MyHome use has also significantly increased repeat and referral business for both WFG and its clients, including lenders and real estate professionals. Ozonian also oversees MyHome's WESTprotect, an enterprise security system for clients to report any suspicious, possible cybercrime attempts. Originally an in-house cybersecurity service for all WFG companies, Ozonian recognized the larger role it could play to help protect the industry from cyberattacks and made the product public.
For the complete list of 2023 Lending Luminary Award recipients, read the full article.