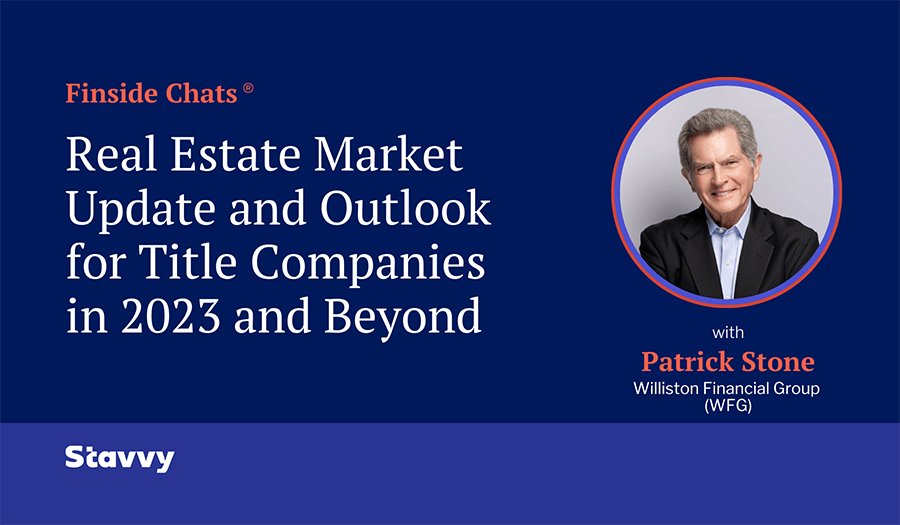 With the Federal government hiking interest rates 11 times since 2022 and rates reaching a 22-year high, many industry professionals want to know what's next.
Stavvy Founder and CEO Kosta Ligris recently discussed predictions with Patrick Stone, Chairman and Founder of Williston Financial Group (WFG). Patrick has enjoyed a lengthy career in real estate, including three C-level positions and serving as a director on two Fortune 500 boards.
Inman News named Patrick one of 2013's "100 Most Influential People in Real Estate" and, in 2015, one of the "Top 101 Real Estate Industry Doers." During 2019 and again in 2021, he was one of Housing Wire's Vanguard Award recipients.
Patrick joins Kosta Ligris on Stavvy's Finside Chats® podcast to discuss what's next for the real estate industry, interest rate forecasts, AI, and how title companies can prepare for the future.
In this episode of Finside Chats, you'll learn about:
Recent trends in inflation, interest rates, and commercial real estate, and how these areas might trend into the future
Demand factors that could influence the real estate market in 2024
Ways for title companies to prepare for next year and beyond