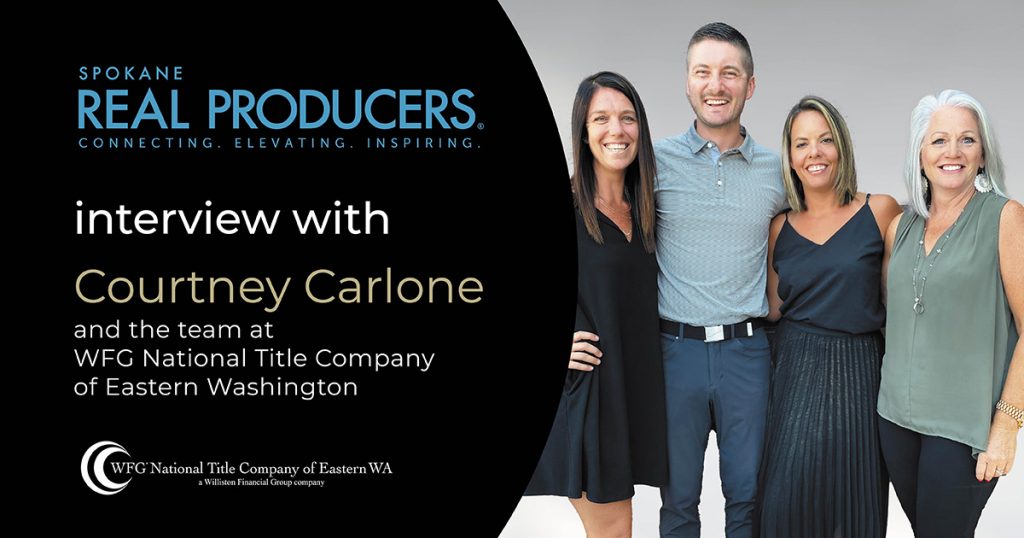 As seen in Spokane Real Producers Magazine:
In its August issue, Spokane Real Producers magazine profiled the "tight-knit" team at WFG National Title Company of Eastern WA's Cataldo office. According to Sales Manager Courtney Carlone, it was the group's cohesion that, in 2020 as the pandemic was forcing competitors' offices to close or shift to car signings, kept the office open (while following all safety protocols).
"We got complimented quite a bit," Carlone said. "Our customers told us the in-person signings while following protocol were preferred over car signings…. We actually picked up market share."
Carlone gives credit to Portland-based WFG, which acquired Cataldo and four other Eastern Washington offices in April 2018, for "providing the preparation, products and infrastructure that made this possible."
"Our leadership is so forward-thinking," she told Spokane Real Producers. "We had an emergency plan in place so we were pretty much set up to just keep going forward through the pandemic. Our ResWare platform and how we do business in general were part of why we stood out in connection to others in our market."
It was more proof for Carlone that the WFG acquisition had been good for Cataldo and the other four offices located in Omak, Winthrop, Mullan and Bernard. (Bernard has since merged with Cataldo.)
When word first came that the well-established independent title office would be acquired by a national company, Carlone was apprehensive. She worried that the "small town, family-first culture [that her] team had nurtured would be sacrificed to corporate demands from WFG."
But those worries were quickly eased by WFG's Founder and Executive Chairman, Patrick Stone.
"Pat Stone actually called me on the first day and said, 'Hey, I hear you're having some hesitations. I just want to reassure you …'"
He went on to say he knew and appreciated what the Eastern Washington offices were doing and pledged to support it. His words would ring true, and her cell phone would ring regularly.
"He really does know exactly who I am, exactly who Spokane is and what we're doing here," Carlone said. "I've never been asked so often, 'What can we do to help you be more successful?' That's truly what every meeting is about."