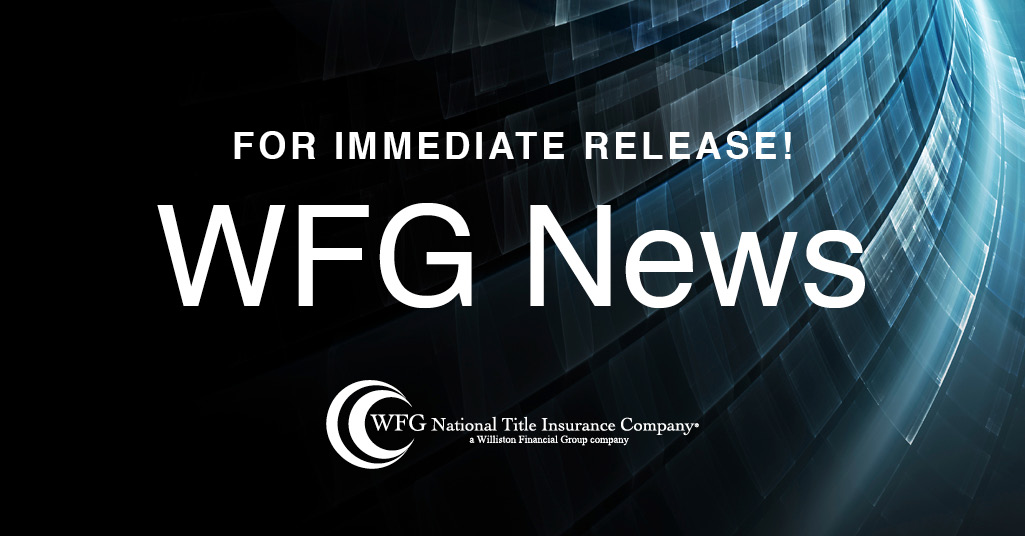 Building on the success of MyHome® for residential resale transaction participants, and MyHome Exchange, WFG helps simplify and accelerate loan funding and disbursement
Portland, Ore., October 14, 2021 – WFG Enterprise Solutions, part of the Williston Financial Group family of companies, has announced availability of its WFG MyHome® Funder Dashboard to regional and national mortgage lenders.
Created to simplify and accelerate loan funding and disbursement, MyHome Funder Dashboard gives loan funders and closing personnel real-time insight into their loan's status as it progresses through closing.
The official mortgage lender channel launch of WFG's MyHome Funder Dashboard follows a successful pilot release program, which took place earlier in the year.
"Repeated requests and delayed responses threaten a secure, on-time closing," said Dan Bailey, SVP WFG Lender Services & WFG Enterprise Solutions. "The first, best way to avoid this is to make sure everyone is on the same page, which is exactly what MyHome Funder Dashboard does. With it, funders immediately view loan balance amounts and any fees the lender plans to keep from the funding wire. That feature eliminates any back-and-forth when balancing a file for disbursement."
MyHome Funder Dashboard improves funding efficiency by providing access to a loan's history, current status, and remaining milestones. It also makes vital information available instantly, including notary name, location and signing time; access to the executed loan package and conditions immediately after the borrower signs; a balance figure (including all fees escrow believes the lender is withholding); and even recording information.
"Beyond that, Funder Dashboard gives transaction participants advance approval of recording and disbursement based upon a review of the funding package and balance amounts, and it supports multiple funders, giving each a unique login so transactions can be individually assigned and managed," Bailey added.
Importantly, it also clearly identifies the escrow officer so that direct communication can be facilitated withinthe dashboard.
"We believe Funder Dashboard will be a significant benefit to a key segment of the mortgage industry," said Marty Frame, President of WEST, a Williston Financial Group company. "It's a product we created in responseto the needs of lenders, with input from a cross section of leaders, through our Executive Roundtable, as well as regular client surveys. Partnership remains our key."
Funder Dashboard joins an extensive lineup of tools from WFG that increase collaboration and create transparency among all participants in the mortgage transaction, including DecisionPoint®, MyHome® and MyHome® Exchange.
"We designed each of these products to assist industry professionals by making them intuitive and simple for borrowers to understand as they move through the collaboration process," said Bailey.
For more information or to view a demonstration, visit wfgls.com, call 877-274-3850 or email about@wfgls.com.
About WFG Lender Services
A Williston Financial Group company, WFG Lender Services is a national settlement services provider that leverages superior technology and closing processes to take time and cost out of the mortgage lending transaction. Rated "World Class" with an annual Net Promoter Score of 77, WFG Lender Services employs a consultative approach and adapts its services to meet the needs of each customer in order to help them increase efficiency, reduce risk and enhance overall customer satisfaction. For more information, visit www.wfgls.com.
MEDIA CONTACT:
Darcy Patch
VP Marketing, Enterprise Solutions
dpatch@poweredbywest.com
714-305-0136