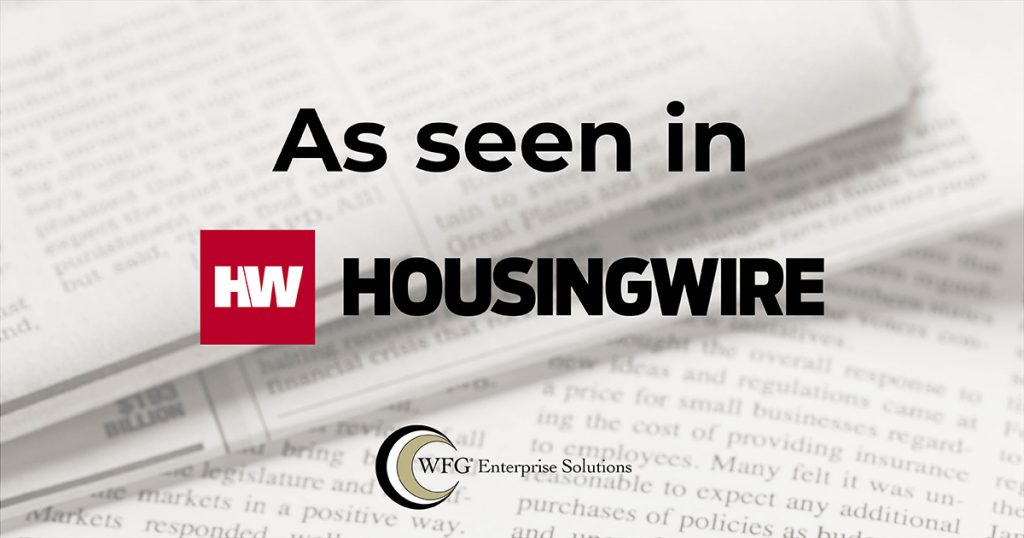 WFG MyHome® and DecisionPoint® are two solutions to boost lender performance
In the wake of a market shift from refis to origination, independent mortgage banks and mortgage subsidiaries of chartered banks are reporting a net gain of $2,023 on each loan originated in Q2 2021, down from a reported gain of $3,361 per loan in Q1 2021.
Citing an August Mortgage Bankers Association announcement, an October 11 post on HousingWire reports that "over the same period, total loan production expenses increased to $8,668 from $7,964, and personnel expenses averaged $5,911 per loan, up from $5,523 per loan."
According to the article, technology is one solution that WFG offers lenders seeking to enhance their operational efficiencies and reduce origination costs. In order to pinpoint exactly what they need to work on in order to improve efficiency and cut costs, WFG Enterprise Solutions, a division of the Williston Financial Group, has developed several products in direct collaboration with its lender clients.
The story states, "Among the technologies helping lenders streamline their operations amid margin compression are its WFG MyHome® consumer collaboration portal and DecisionPoint®, an instant title-decisioning engine.
"WFG's MyHome brings real estate transaction participants together within a single, easy-to-use ecosystem," it says. "This portal enhances communication and transparency, improving the customer experience. [It] also eliminates duplicate touchpoints, provides real-time status updates, enables proactive communication and facilitates data and document collection, storage and sharing. It also eliminates redundant tasks and unnecessary inquiries, as well as collects and delivers crucial documentation and information in a secure, centralized repository."
DecisionPoint, on the other hand, is an automated title-decisioning tool that aims to enhance lenders' pipeline management.
"By analyzing property encumbrances and applicant circumstances, DecisionPoint is able to immediately project a reliable title clearance time frame and provide a detailed pre-title report summarizing its findings," the story states. "These reports allow lenders to focus their time and energy on loans with clear title, avoid spending time on loans that won't close and, if desired, look further into loans that may require some form of remediation."