What is E-Closing?
Our motto is Everything we do is… Because of you, with that in mind, we at WFG National Title are committed to supporting our staff and customers to leverage cutting-edge technology and provide guidance and support to enhance the closing experience. We believe offering different types of eClosing opportunities expands our ability to meet our customers and their clients' needs.
Several factors are driving the real estate industry to transition from paper and wet-ink signing to electronic signatures on digital, paperless documents. This is known as digital closing or, more commonly, eClosing.
1. REMOTE NOTARIZATION (RON)
A fully digital process where electronic documents are eSigned and eNotarized once identity is verified with the notary in a remote location via webcam
---
Electronic Documents
---
Electronic Signature
---
Electronic Notarization
---
Remote
2. HYBRID SIGNING AND NOTARIZATION
Any combination of closing types – typically means ink signing of recordable/notarized documents and eSigning the rest of the closing package
---
Electronic Documents
---
Electronic Signature
---
Electronic Notarization
---
Remote
3. TRADITIONAL WET INK NOTARIZATION (TWIN)
In-person notarization of paper documents
---
Paper documents
---
Ink Signature
---
Ink Notarization
---
In-person
4. IN-PERSON ELECTRONIC NOTARIZATION (IPEN)
Electronic documents are eSigned and eNotarized in-person – typically performed on a tablet shared by the signer and the notary
---
Electronic Documents
---
Electronic Signature
---
Electronic Notarization
---
In-person
5. REMOTE INK SIGNED NOTARIZATION (RIN)
Paper documents are ink-signed while notary witnesses via webcam. The ink-signed documents are then mailed back to the notary for final ink
---
Paper Documents
---
Ink Signature
---
Ink Notarization
---
Remote
---
State-by-State Guide to Remote Online Notarization
What's available in your state:
Legislation Proposed – Not Passed
E-signing options for
Available
Not Available
---
Why e-closing might be a good option for you?
SPEED
Accelerated loan Funding
Faster document delivery
Shorter signing appointments
Shorter funding times
CONVENIENCE
More streamlined closing experience
Review documents in advance and ask questions of the appropriate parties
Supports social distancing
Close from any location
SECURITY
Consumer authentication
Quickly identify any altered documents
Control access to private information
ECO-FRIENDLY
Reduced use of paper
Reduced carbon footprint of shipping and storing physical documents
QUALITY
Prevents missing signatures or documents
Improved accuracy and consistency
Automated data validation
Provides audit trails, tracking & alerts
Boosts compliance
What you'll need for an e-closing signing
It's critical that the signer can provide the following items – we strongly suggest you test them before the scheduled closing:
INTERNET ACCESS
Mobile phones are not ideal for eClosings.
If you're using RON, you'll need bandwidth of at least 15Mbps. If you dont have that over wifi, switch to ethernet cables.
However, the signer may need their mobile phone to take and send a photo of their ID for analysis.
MICROPHONE AND CAMERA FOR STREAMING
RIN, RON, and hybrid eClosings require that the signer and remote notary can clearly see and hear one another.
Investing in cameras and microphones designed for streaming can help ensure this clarity.
CURRENT & UNEXPIRED GOVERNMENT-ISSUED IDENTIFICATION
Used to verify signer's identity, along with Knowledge-Based Authentication (information only known by you).
WORKING EMAIL ADDRESS
To receive instructions and invitations to join the eClosing platform.
Want printed versions?
We've wrapped all of the information specific to your state and e-closing into one convenient PDF.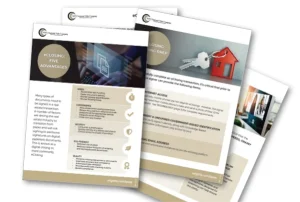 Need help?
Can't decide which solution is best for you? Just send us a quick message and we'll get you help!